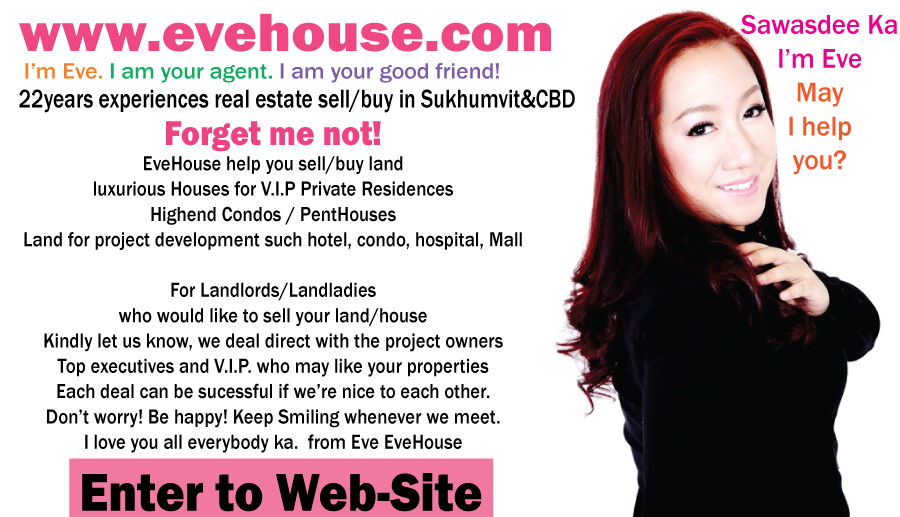 Eve would like to invite you to make a transaction with us. For both buying and selling are welcoming, we can make it for you. With our 21 years of experiences as being real estate agent, we are nurtured with strong and firm background of experiences too. We think we can find all kinds of solutions for the clients. With many clients in hands and continuous work and experiences, we have such great opportunities to learn a lot. Eve's work requires in depth study such as strength and weaknesses of each plot of land to make sure that it will be useful for our clients. To satisfy the need of each client in case of buying for investment or for private use, we must learn to understand and do some researches for it. Eve had learned a lot from the clients through discussing which cannot be found in any school. The clients and the land owners are our best teachers since it is learning by doing for real. It is such an enjoyment for Eve and it will prove that Eve really loves this job. However, Eve would be more and more happier to always learn the new things, so many unknown things for Eve to learn. This is wonderful! Eve would like to thank for the clients to share great experiences with us. Eve has been working with several provinces and aspects to try to get more advantages and knowledges from it for sharing with our clients and hope to the get the highest satisfaction. Eve would like to make sure that our clients deserve the best and Eve will go for it to make you feel special from our services. Many times, Eve and the team work so hard for the best without expecting anything in return, because we work from the heart. This same old Eve's concept is "Money is not everything." The happiness from all the clients is expected and it is one of our goals. Eve will be glad to make our clients smile every time we meet.
PS. If you really have no time for the long distance travelling to looking for a plot of land at different provinces, please tell us. We can handle it for you. If you just make sure that you really want it, we will go for it. Eve can make drone's presentation for land surveying and checking with the land owner and documents for the assurance. Whenever you feel satisfy then make a purchase with us. Eve will do wholeheartedly for you. Thank you! From Eve.
We have more than 30,000 properties listings. If you look for land or house for sell, investment properties,
service apartment buildings for sale, hotels 30-70rooms for sale in Sukhumvit,
land for sale near BTS, MRT hotels for sale in Krabi, Phuket 185mil-450mil and general land for sale 10-1,000 rai land on your purpose
such as:land for sale 100sq.wa -4rai in peaceful Street for build house land for sale 1-7rai for condo development, land for sale 7-100rai for housing development,
land for sale 1rai -4rai for car showroom, furniture and decorative elements showroom land for sale 40rai -1,000 Rai for farmland, cultivate,
land for sale 150sq.wa-30rai (depend on location) for hotel, resort project etc. kindly let us know we may have good land matched to your need.
We keep surveying more properties. Now majorities updated properties are doing inspecting by Eve myself. I understand good point ,
weak point and exellent point of the properties I have seen.
These for making very sure, i can get the best of the best properties for you ka.
serious buyer/seller can consult Eve by sending email to : eve.evehouse@gmail.com